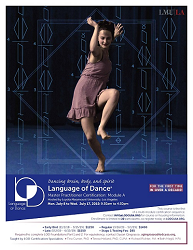 Language of Dance® Foundations – Part 1

Hosted by:

Loyola Marymount University Department of Theatre and Dance
Los Angeles, CA

Sunday, June 17 to Thursday, June 21, 2018
9:30am-4:30pm
Register & Pay for the Course:
Day Rate Early bird/Full Tuition

Included & Required Publications:
Motif Notation: An Introduction booklet
MOTIF AT A GLANCE! Flip chart
For more information, email: info@lodcusa.org


To print this page and information, click here to open in a new window.


Explore the universal elements of the Movement Alphabet and integrate movement Motif symbols into dance experiences to connect physical, cognitive and socio-emotional learning. You will utilize dance literacy strategies to transform your teaching and creative practices. Those who successfully complete all course requirements will receive the Language of Dance® Foundations – Part 1 Certificate.

This course is for dance educators, movement specialists and classroom teachers (K-12, private studio, higher education and arts specialists). Up to 3 Salary Points for LAUSD teachers.

CANCELLATION POLICY: Up until 30 days prior to the beginning of the course, the LODC will refund the registration minus a $50 cancellation fee. Due to obligated costs incurred by the LODC, we are unable to refund any registration after the 30-day cutoff; however, another individual may take the original registrant's place, or the participant may apply the registration toward the next LOD Foundations Course.

Instructors are Language of Dance Certification Specialists:
Susan Gingrasso, MA, CMA
Teresa Heiland, PhD, CMA
Michael Richter, MA
Tuition:
$700 until June 3, 2018
$775 after June 3, 2018
$150 daily rate
LAUSD Salary Points Available.

Course Description
Actively experience, explore, and apply the Language of Dance Approach to dance and movement practices to promote: dance literacy; support integration of the kinesthetic, cognitive, and socio-emotional domains of learning; uncover the pedagogical frameworks that support deep learning in dance to integrate the LOD Movement Alphabet into artistic and pedagogical practices. Those who successfully complete all course requirements will receive the Language of Dance® Foundations Part 1 Certificate.
Benefits of this Course
This course uses the Language of Dance (LOD) Approach to teaching and learning in dance to build your capacity to weave dance literacy into your practice of 1) dance as art in education and 2) dance as a tool for curricular integration.
Experience the Language of Dance (LOD) framework through a constructivist, learner-centered pedagogy;
Make meaningful and embodied connections to each Movement Alphabet concept studied;
Use Motif Notation to read and write dance concepts and dances that reveal dance literacy as an integral part of dance teaching and learning in diverse contexts;
Enhance the integration of kinesthetic, cognitive, and socio-emotional domains of learning in dance as art in education and dance in the academic curriculum;
Discover how using the LOD Movement Alphabet in the teaching and learning process accelerates observation, description, interpretation, analysis, creation, performance, evaluation, and embodiment of skills, knowledge, and understanding;
Refine your performance abilities and artistry through reflection, creative process, critical thinking, and collaborative learning.
Apply pedagogical content knowledge about teaching and learning using the LOD Framework to current instructional or artistic practice
BONUS BENEFIT: Get an insider's experience of the pedagogical strategies the instructors use to create the rich and deep learning experiences in the course and how they connect to the 21st Century Learning Skills.
Language of Dance Foundations Part 1 Content
The Actions (Verbs)
Flex, Extend, & Rotate
Travel, Direction, & Level
Arrive at a Still Shape
The Qualifiers (Adverbs)
Movement size: Small, Large
Dynamics: Accents, Force, Flow
The Subjects or Objects (Nouns)
Floor Plans
Areas of the Performance Space/Stage

Participants shared, this course provides you with:
Tools to organize and focus your teaching, choreography and dancing.
Language to record and communicate movement concepts.
Accessibility for all learners through dance literacy.
Empowerment to more deeply perform and understand dance.
Ways to use the Movement Alphabet and Motif Notation to understand and record your own and your student's growth.
Practice layering different aspects of the Movement Alphabet to scaffold each aspect of a lesson.
Participant experiences:
I think the Change of Support cards and (lesson) framework will be a wonderful resource for a secondary Ed class I will be teaching in the fall--the Movement Alphabet poster as well. I was intrigued by the dance literacy discussion in small groups. Personally, I see notation as part of literacy within the broader Laban Studies umbrella. In our group the point was raised that the Laban approach is Western-centric in its origins and emphases and, as a result, a concern was raised as to whether its application can truly be universal in terms of defining dance literacy. We discussed the Laban approach as being one of many literacies in dance. This stimulated me to begin to think about what would constitute a non-Western-centric, global literacy or literacies in dance.