Jacob's Pillow honors Dr. Ann Hutchinson Guest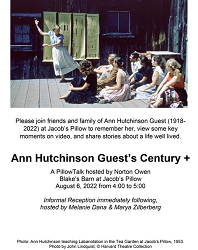 Jacob's Pillow will hold A Pillow Talk hosted by Norton Owen in honor of our Ann on August 6, 2022.
Friends and family of Ann Hutchinson Guest will gather at Jacob's Pillow to remember her, view some key moments on video, and share stories about her life well lived.

Family members Melanie Dana and Marya Zilberberg will host an informal reception following the session.