Congratulations to our new Language of Dance Certified Master Practitioners!
The Language of Dance Center proudly announces our newest Certified Master Practitioners.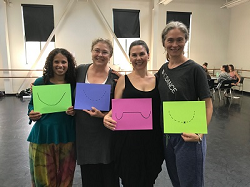 Natalie Diggins
Shana Habel
Amber McCall
Brooklynn Reeves-Mallett
Cassandra (Cassie) Roberts-Rossi
Maria Royals
Amy Vaillancourt
Kodee Van Nort
This outstanding group of dance educators and artists completed their year long training (Modules A, B, and C) this summer. Find out more about this incredible group on our
Training page
.
We will be featuring the impressive work of one MP every month, so be sure to check back for updates and discover all of the fascinating ways they are incorporating LOD and the Language of Dance pedagogy into their work.
And join us in giving a STANDING OVATION to each and every one of our LOD MPS!