Incredible Member and Student Discounts on 2022 Foundations!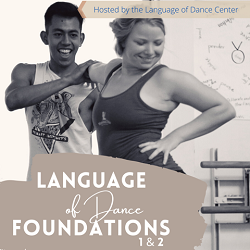 The LODC is ready to celebrate the end of the pandemic (aren't we all?!)! In honor of this momentous time period, we are excited to boost our 2022 Member benefits and give our LOD Members an even greater discount for this summer's Online Foundations courses!

The Language of Dance Center also offers great discounted undergraduate, graduate, and doctoral student Foundations rates. For more information, please email the LODC for student registration.
Join the LODC and now SAVE 25% off one course or an incredible 33% off both Foundations Parts 1 and 2. Becoming a LODC member gives you access to numerous resources AND a 15% discount on all LODC produced products. 
Boosted 2022 LODC Member Foundations Rates
Part 1 or Part 2 (USA): $500
Part 1 or Part 2 (International): $550
Part 1 and Part 2 (USA): $780
Part 1 and Part 2 (International): $830
Through LOD, deepen your movement embodiment, artistic perception, expression, and develop practical and inspiring applications of dance literacy.
Course Dates
Foundations Part 1 Online
July 5-17, 2022
July 5-8 Asynchronous engagement
July 9-17 Synchronous meetings
Foundations Part 2 Online
July 18-31, 2022
July 18-22 Asynchronous engagement
July 23-31 Synchronous meetings